Video: Moment UK Police Officers told Reno Omokri to go back and continue his protest tomorrow
April 2, 2021 8:38 pm
Topic starter
On Thursday, Reno Omokri revealed that he would be flying to the United Kingdom to harass President Buhari back to Nigeria. He stated that the President went to London to give himself life yet he has not done anything about the EndSARS protesters that were killed at Lekki Tollgate last year.
Earlier today, Reno Omokri took to his Twitter account disclosed that he is currently at the location where president Buhari is staying. He also shared a picture of himself, showing the house address and the number of the building.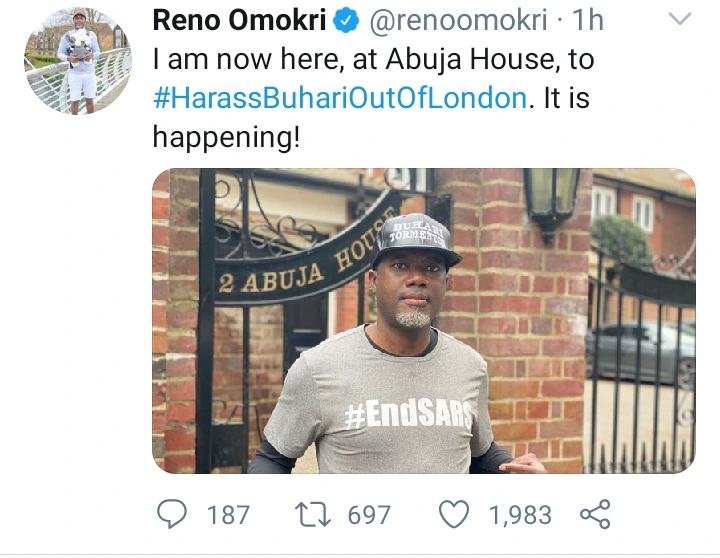 Just a moment ago, a video of Reno Omokri talking with UK police officers surfaced online. According to the viral video, the police officer told Reno to go back and continue his protest tomorrow.
However, Reno refused and asked the officers if he doesn't have the right to peaceful protest. He also asked the officer if he has committed any crime, adding that he has not displayed any offensive act or knock at the door.
Reno immediately left the police officers and went back to the protest group with other Nigerians. They were spotted holding placards and demanding that President Buhari should go back to Nigerian.
What do you have to say concerning the ongoing protest staged by Reno Omokri in United Kingdom? Kindly use the comment box and air your views. Feel free to like and share this post.
Click here to here watch the video.
Source: https://news-af.feednews.com/news/detail/9a26ec439914b8274956281699a9c2b5?client=news